The second multi-touch table, that I have built is called The Virttable, which stands for Versatile Illumination Research Touch Table.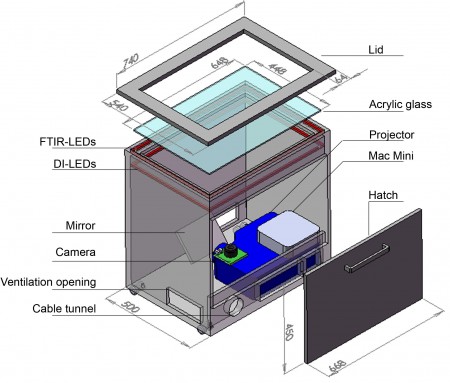 This table is the property of the department for Design, Computer Science and Media (DCSM) of the Wiesbaden University of Applied Sciences, which provided me with the money for the components of the Virttable. (Actually, we had student fees for a short time in Hessen/Germany. From a part of these student fees the Virttable has been built. Thank you, dear students!!! There's no cent of public money in the Virttable.) Amongst others those parts include:
lots of Osram SFH 485P infrared LEDs
162 Osram SFH 4550 infrared LEDs for FTIR illumination Their min. radiant intensity is 400 mW/sr at 100mA while the min. radiant intensity of a SFH 485P LED is 4.5 mW/Sr at 100mA. Taken the LED's half angles into consideration (3 for the SFH 4550 resp. 40 for the SFH 485P) this means that the SFH 4550 has around 6.5 times more light than the SFH 485P.
Six high power infrared LEDs with 4 led's on one dye (Aculed VHL IR 4-chip High Power LEDs) for Diffuse Illumination
two panes of acrylic glass (I burned the surface of the second pane, a Plexiglass EndLighten pane, while trying to apply a Lexel/Toluene dilution on top of it)
A standard acrylic glass
MDF boards for the box
The computer that I have used in the Virttable is my Mac Mini.