The TwinTable is a multi-touch tabletop system that Simon Lehmann and I have built at the RheinMain University. After my previous table, the Virttable, we wanted to go for something bigger and with Full HD. Furthermore, our goal was a table that could be used in a living environment. Therefore, we have chosen a height of 50 cm, which is roughly the same height as a coffee table. This allows us to integrate the TwinTable into our laboratory's lounge suite.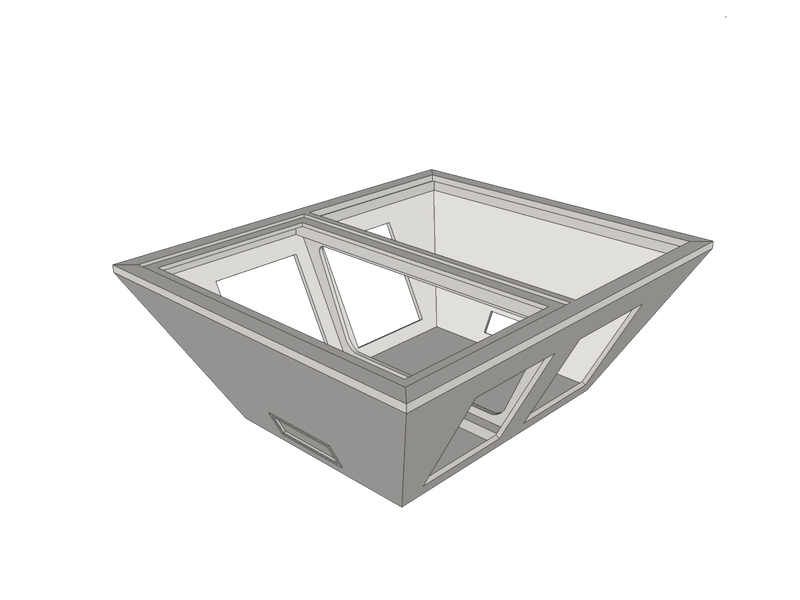 As the name implies, the TwinTable offers two screens with the same dimensions. Both have a diameter of approximately 46″. The first screen uses rear-projection that employs an extensive mirror fixture setup. To allow for tangible interaction, this screen is an optical setup using the diffused illumination (DI) approach. We detect interaction on the screen's surface by tracking user input with our software Actracktive. As we use DI in combination with Actracktive, we can reliably track touch interaction as well as interaction with tangible objects equipped with the fiducial markers from the reacTIVision project. Currently, the second screen is simply a 46″ TFT display without any interactivity. When we started planning the TwinTable, we were sure we could get a reliable, affordable glass pane equipped with a touch detection foil in near future with which we could at least track touches on the TFT screen. However, either the foils did not work to our satisfaction or were simply too expensive (we got an offer for a 46″ projected capacitive touch foil on a glass pane for approx. 6.000 EUR. This is basically just a piece of glass with a plastic foil with wires without screen, without computer, without mounting. I do not want to sound cheap, but for 1.400 EUR more, we could buy a Samsung SUR40 and embed this into the TwinTable without hassle. So we skipped the touch foil for the second screen. However, maybe in future…)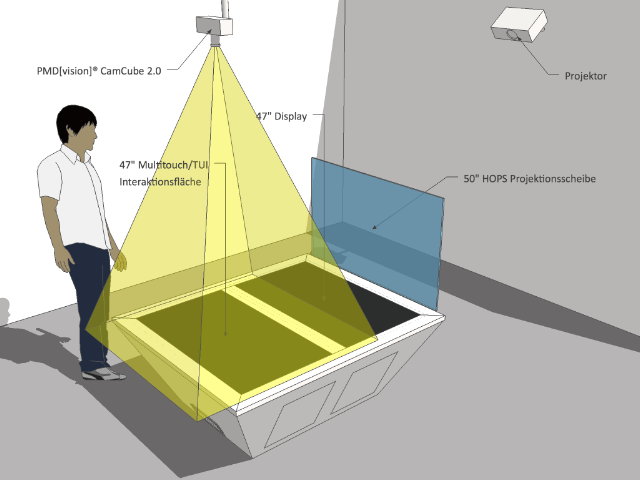 (Don't be mistaken. There is no HOPS screen, no external projector. However, as you can see here, there is a PMD CamCube next to a Microsoft Kinect.)
As to the material list:
– Projector: Acer H7530D
– Camera: Pointgrey Firefly MV FireWire
– IR light: simple IR spotlights like these
– Computer: Mac Mini
– TFT screen: Grundig 46 VLE 7130
– Rear projection screen: PLEXIGLAS® 7D006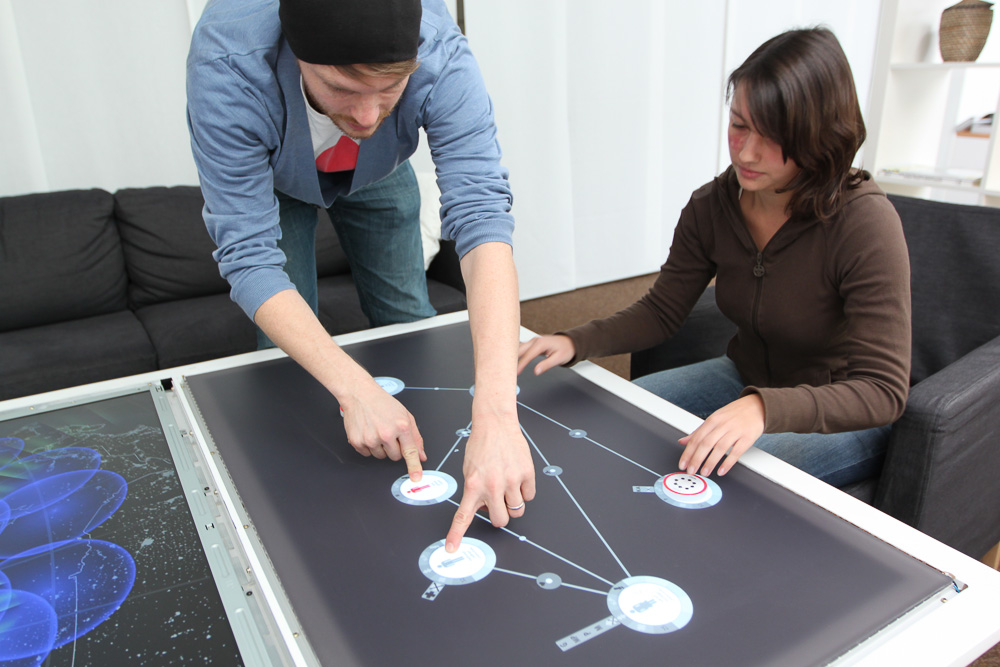 Some neat details:
– Neutrik power plug/socket and Neutrik network RJ45 socket
– Power On/Off Button on the TwinTable body connected to an Arduino Uno connected to the serial port of the projector. This button allows to switch the projector on and off without any warning messages on the screen. This is really a bliss: You do not need any remote control and it feels like you were really switching off that table (which you doesn't: the Mac Mini keeps running as well as the lighting and the fans. But still: Feels good) :)
– Two Belkin desk USB hubs
There is still a big todo left: We have gotten no lid for the table. Well, I definitely need to work that one out in future. Sometimes.
Any questions or hints? Please post them in the comments!
Check out the gallery: