In this post I'll show how to load a file with a file chooser dialog from your local HD into an Internet Flash application in your browser. In another post I've explained how to save a file to HD from Flash.
With a little workaround it is possible to load files into Flash in a way that it feels just as if you would do it with a common application: You are being asked with a standard system file dialog, which file you want to load in your application.
However, at first you have to park (i.e. upload) your file on a server in order to make it "publicly" available for your Flash app: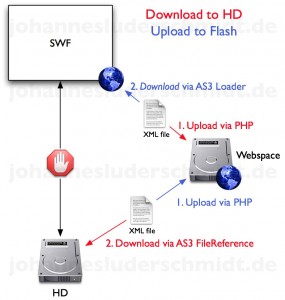 But step by step. The procedure goes like this:
You open up a file browser in Flash.
The user chooses a file from your HD and clicks OK.
The file is being uploaded from your HD to the server.
Flash loads the file from the server in itself.
This code should do all the file handling in Flash for you:
1
2
3
4
5
6
7
8
9
10
11
12
13
14
15
16
17
18
19
20
21
22
23
24
25
26
27
28
29
30
31
32
33
34
35
36
37
38
39
40
41
42
43
44
45
46


private

 

var

 fileRef

:

FileReference

;




private

 const FILE_UPLOAD_URL

:

String

 = 
        

"http://your-server.com/path/to/upload/flashUpload.php"

;




private

 const UPLOADED_XML_URL

:

String

 = 
        

"http://your-server.com/path/to/upload/"

;


 


private

 

function

 initializeFileRef

(

)

:

void

{


    

//FileReference allows you to open up system file chooser dialogs and 


    

//to simply upload files on a webserver


    fileRef = 

new

 

FileReference

(

)

;


 
    

//after a file has been chosen in the file chooser dialog the function 


    

//fileSelected will be called.


    fileRef

.

addEventListener

(

Event

.

SELECT

,

 fileSelected

)

;


 
    

//after the chosen file has been uploaded to the server the function 


    

//uploadCompleted will be called


    fileRef

.

addEventListener

(

Event

.

COMPLETE

,

 uploadCompleted

)

;




}


 


/**
 * upload chosen file from file chooser dialog to server
 */




private

 

function

 fileSelected

(

evt

:

Event

)

:

void

 

{


	fileRef

.

upload

(

new

 

URLRequest

(

FILE_UPLOAD_URL

)

,

 

"uploadFile"

)

;




}


 


/**
 * load uploaded file from server into flash
 */




private

 

function

 uploadCompleted

(

evt

:

Event

)

:

void

 

{


	

var

 uploadedFileUrl

:

String

 = UPLOADED_XML_URL 

+

 fileRef

.

name

;


	

var

 

message

:

String

;


	

var

 

loader

:

URLLoader

 = 

new

 

URLLoader

(

)

;


	

loader

.

addEventListener

(

Event

.

COMPLETE

,

 downloadInFlashCompleted

)

;


 
    

loader

.

load

(

new

 

URLRequest

(

uploadedFileUrl

)

)

;




}


 


/**
 * file has been completely loaded into Flash. You can now do with it
 * whatever you want to do.
 */




private

 

function

 downloadInFlashCompleted

(

evt

:

Event

)

:

void

 

{


	

trace

(

evt

.

target

.

data

)

;




}
The script at http://your-server.com/path/to/upload/flashUpload.php should look like this:
1
2
3
4
5
6
7


<?

php
move_uploaded_file

(

$_FILES

[

'uploadFile'

]

[

'tmp_name'

]

,

 
    $_FILES

[

'uploadFile'

]

[

'name'

]

)

;


#return something to flash

.

 Otherwise the 

Event

.

Complete 
#listener will not trigger

.


echo 

"somethingThatFlashGetsAResponseToItsRequest."

;




?>